Glory Annen is a relatively unknown actress. She was never destined to win any Academy Awards, but the impression she made on me has lasted a lifetime. Best know for her film "Felicity", Glory Annen also had Roles in SUPERGIRL, WATER, CRUEL PASSIONS and several other films.
In the late 1980's, I used to sneak downstairs after my parents went to bed to watch Showtime, a cable movie network. They would play dubbed foreign softcore films from the '70s and '80s. Being the 14 year old that I was, I used to tape the good sections of these movies. One of those movies was a movie called Felicity.
Years went by and the tape had gone away, but I always remembered the girl from Felicity. It wasn't until the advent of the internet that I discovered her name: Glory Annen. I came across a copy of Felicity on ebay after a fierce bidding war, and I fell in love all over again.
If you've been searching for Glory Annen, you've undoubtedly come up dry. This page will clue you in to who she is, and where she is today.
UPDATE 04/14/05
Some of Glory's movies have come out on DVD! There is a potential bootleg of Felicity floating around on ebay. Supposedly this one is uncut, but a VHS quality transfer.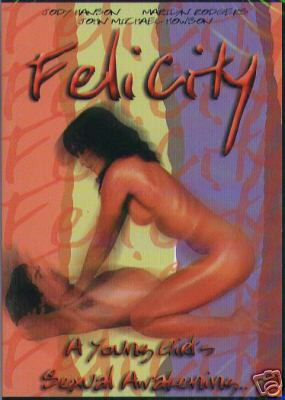 There are also 3 new legitimate DVD releases out right now:
Also, in Glory News:
New pictures added to the photos section.
UPDATE 10/25/04
Two years? wow. time flies. Here's what's going on in Glory's world:
Unfortunately, not all is going well for her. Let's hope things turn around for her soon!
UPDATE 5/23/02
UPDATE 5/10/02
Glory Annen's biography has been completed, and some new photos have been uploaded.
UPDATE 5/02/02
Salvation films has announced that they are releasing "Cruel Passion", "Prey", and "Spaced Out" on DVD.
Thanks for your enquiry. We are going to be remastering Cruel Passion from its original negative and will be putting it out under its original title -
'The Marquis De Sade's Justine. We are also releasing this one in the USA as well. In terms of a release it should be this year but we have a meeting later this week as it happens which should clarify our schedule for the next six months and we will announce this on our site shortly or you can email us again next week.

Prey won't be out until next year.

We're hoping to release 'Spaced Out' in the US later this year though its UK release won't be until 2003.
UPDATE! 3/28/02
Glory Annen has been found! A search at spotlightcd turned up some contact information. Her casting agent is here:
ACTORS & ARTS LONDON LTD.
113 Ingelow Road
London SW8 3PE
Tel: 020-7627 1233